The Pillowcase Project
February 25, 2017 @ 12:00 am

-

4:00 pm
Event Navigation
The Pillowcase Project —A Case for the Common Good

A group of us met at my house on Sunday, January 1, 2017 to experience and shape an idea via our collective wisdom. The questions were posed:
What if we started a social movement using pillowcases as canvases for our dreams for the country and the world?
What if we publicly shared our images of what we are committed to protect and defend?
What if we met to make our pillows together, share our ideas about making change in our own community, actually co-created with others a circle of consequence?
I told the story about the Ribbon Project, where thousands of us made ribbons, tied them together and circled the Pentagon in 1985. That project was three years in the making. Three years from now we could mobilize another national event called 20/20 Vision, hanging our clotheslines around anything we deem necessary at the time. 1700 pillowcases = 1 mile. In Washington, we had 18 miles of ribbons tied together.
Justine Merritt founded the Ribbon Project in 1982 as a protest against nuclear arms. She asked people to represent on a yard long piece of fabric what they would hate to lose in a nuclear war. We're asking people to imagine what they WANT, to make an image of what they hope for.
Why a Pillowcase Project?
I chose pillowcases because everyone can get one inexpensively. Pillows are where our dreams are first imprinted. They are a standard size. You can apply photos, text, paint. You can use fabric makers, photo transfers, stencils for your words. Or you can design via websites like Artscow or Personalizationmail.. There are plenty of companies that do it. I ordered one at arts cow for under $15. My first attempt before that was a photo collage using stencils and iron on transfer sheets from Michael's.
As you can see from Fran Dornan's quilt of my mom and me, it's ok to use any fabric you want if you keep it pillowcase size. Our group decided to stay with a horizontal format. That means create your art so it hangs the long way on a clothesline.
What imagery should you use?
Ask yourself the question, what would you change if you had a magic wand? What might you heal, preserve, defend? Look at what you pray for and represent that visually. Look what is breaking your heart and give voice to that. You can always find pictures of the rainforest, our endangered waters, children who need us to be there for them. All your answers are right in your mind already. Tap in.
Who else can you do this with?
Call a few friends together for an afternoon. Organize a pillow powwow for your church or social club. Or if you want to work alone, do that. You can always mail your pillowcase to me at Livingkindness Foundation, 5187 Arlene Place, San Diego, CA 92117. I will hang them on our clothesline and you will always be with me for local rallies and celebrations.

What might you do with your pillowcases?
Some women here might take their cases to the Women's March on January 21. (I would but I'll be in Hiroshima then) The group talked about getting a bunch created then hanging them wherever we want to draw attention. Possibilities for San Diego: Women's History Museum, Balboa Park, Civic Center, the Mexican border. We will show up wiht our clothesline and cases whenever we want to draw attention to something.
Clotheslines can be strung up easily or simply held up by those who are rallying or walking for a cause. Sometimes I imagine it like a Christos project, miles of cases strung across a vast space for all to see.
What is the hope for the Pillowcase Project?
It allows us to call forth our dreams and give voice to the visions our souls support—the first step in manifesting the reality we choose.
It is a tool for creating community, a reason for people to come together and make something of their hopes.
A clothesline holding 100 pillowcases of what the people care for, what we commit to protecting is a powerful image. It is a newsworthy event, a public spectacle, drawing attention to OUR power to make the news.
Our images will arouse the public's moral imagination. Information does not move people, but art does. Art is the best vessel for activism as it cuts through our differences and goes straight to the heart.
No matter what our attempts to inform, it is our ability to inspire that will turn the tides. from Marry Your Muse
Details are below for the first Pillowcase Powwow at my house on February 25 from noon-4. See you there! For more info, jan@janphillips.com
If you want to become part of this project, sign up for my Museletter and I will keep you informed. or join us on facebook.
Words of comfort and encouragement for the creative journey.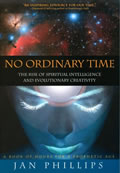 Free Book download with every sign up! Jan's award-winning book on the rise of spiritual intelligence and evolutionary creativity, No Ordinary Time
"I live for Jan's Museletter and Sunday Bulletins! They are the source of my prayers and reflections for the whole week. Always fun, always informative, always a boost for my soul." - Cherie P.